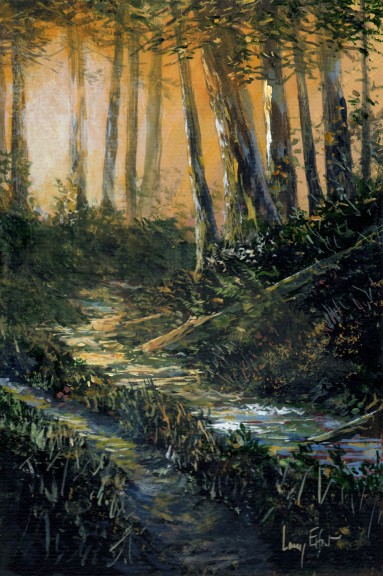 Our little trail went right by this seasonal creek carrying runoff from snow much farther up the mountain – Buckhorn Peak. I loved the way the trail, carrying us, mimicked the creek, carry the water. Both of us were traveling, both right here at the same moment in time and together by chance. One of us appreciated the light and lush effects it produced with light streaming through the forest and onto the water. In a moment, all three were gone.
Heather Creek is up the Dungeness River, Olympic National Forest and National Park, second steepest watershed in America. In its 32 miles, the river drops 7,300 feet. I can say I've been from bottom to top of this river – it's one of my favorites. From old-growth hemlock forests lacking fire scars to a waterfall that looks like a feathery curtain, broad meadows, alpine tarns, towering peaks named Deception, Buckhorn and Constance – it's all here. I've painted it often, and if I can walk, I'll be back!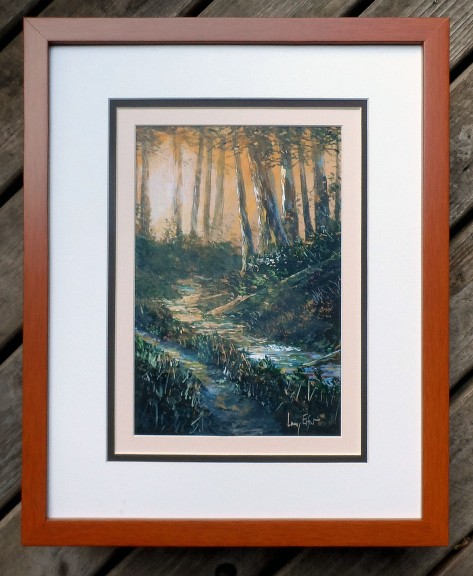 This ORIGINAL painting is acrylic on board, 6″ x 9″ and $145 framed. Outside edge of the frame is about 12″ x 15″.
This custom frame has a triple liner and glass. Shipping adds just a bit more depending on your zone. This is the original painting, NOT a print.
Email us for details.
Thanks for reading this week. Send this to someone who might appreciate what I'm painting and tell them to sign up. I'm trying to expand my list. An email will work.
Larry Eifert
Here's the blog on the web.And here's my Facebook fan page. I post lots of other stuff there.
Click here to go to our main website – with jigsaw puzzles, prints, interpretive portfolios and lots of other stuff.
Nancy's web portfolio of beautiful photographs
And Click here to go to Virginia Eifert's website. Her books are now becoming available as Amazon Kindle books.