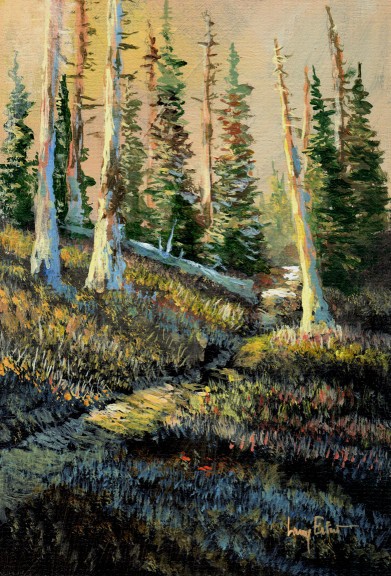 Must  have burned decades ago, because the new trees were closing in on making it a real forest again. It sure looked like woodpecker- heaven to me. Those old scarred sentinels were just too good to pass up, so I took a quick reference photo – and here's a painting of it months later. Problem is, I couldn't FIND the reference photo, so just painted how it 'felt' instead of anything about how it actually 'looked'. Maybe I was 'seeing' instead of just 'looking' when I first saw it, because I think I 'got it'.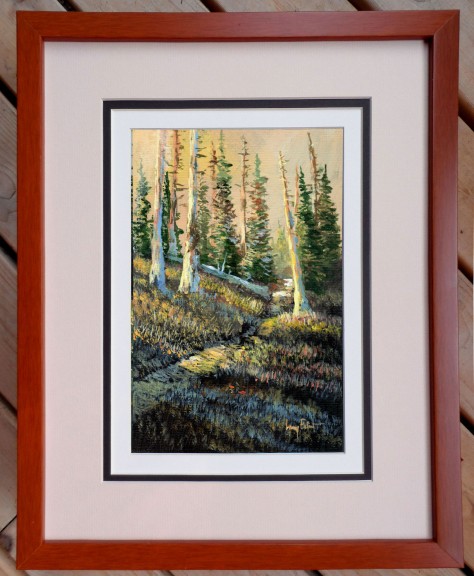 This ORIGINAL painting is acrylic on board, 6″ x 9″ and $145 framed. Outside edge of the frame is about 12″ x 15″.
This custom frame has a triple liner and glass. Shipping adds just a bit more depending on your zone. This is the original painting, NOT a print.
Email us for details.
Thanks for reading this week.
Larry Eifert
Here's the blog on the web.And here's my Facebook fan page. I post lots of other stuff there.
Click here to go to our main website – with jigsaw puzzles, prints, interpretive portfolios and lots of other stuff.
Nancy's web portfolio of beautiful photographs
And Click here to go to Virginia Eifert's website. Her books are now becoming available as Amazon Kindle books.