Some Answers to Your Questions:
When I order a Matted Print not a Framed Print?
You'll receive the same high-quality Giclee Print in a double-matted custom mat. The mat's outer dimension fits a standard frame you can buy at your local Michaels or similar store. The outer mat color is a light color, the inner liner is darker and designed to match or offset the print's colors. The matted print is then carefully backed with foamcore and bagged in a plastic resealable bag.
When I order a Framed Print?
You'll receive the Giclee Print custom framed in a high-quality 1.5″ wide x 1″ black wood frame (see the photo below). This frame has a beautiful silver sheen to it, softening the look and making it appropriate for both homes and offices. The mat and print are under quality standard picture frame glass.The print is then backed with cardboard or foam core (a foam-cored backing board) and covered with paper and a proper standard wiring system for wall hanging. These frames have been carefully chosen to fit most house or office color schemes. If you're unsure, just order the matted version and have the print custom framed when it arrives. However, because of our quantity discounts, we're sure we can frame your print for less.
 How Do You Ship the Prints?
All prints are well-packed and insured against damage. We work  to make sure they get where they're going without injury, but sometimes damage occurs. If this happens, call us immediately so we can fix the problem.We usually ship USMail Priority or USP Ground, but can accommodate any shipped requirement. 
Note: if a large print requires some extra shipping, we'll contact you before we s hip to verify this with you.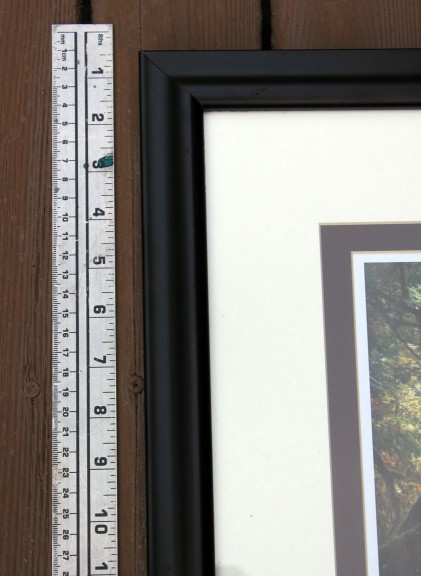 Click the image to enlarge.These are custom-built frames, not mass produced cheapies.We also offer a natural box and a gold fancier profile. Email us and we'll send a photo of each.
 Note the double mat for the smaller prints. On the 22″ x 28″ print, we add a third mat.
For smaller original paintings and prints, we also offer this custom frame. We usually sell this as standard with the painting so framing is taken care of – just unwrap the box and hang it up.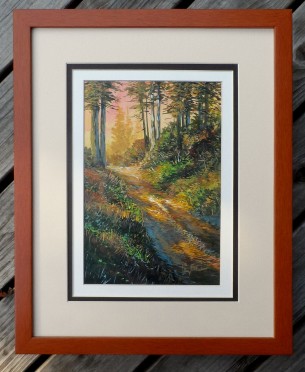 Other questions, just click this to email us.