For small Internet orders, we usually ship USMail Priority unless requested. We can also ship Fed Ex or UPS.
Shipping Charges for Small Internet Orders:
If your total order is (not including the freight) is:
Up to $15, we add $6
$15.00 – $20, we add $8,

$20.00-$30, we add $10,

$30.00-$45, we add $14,

$45.00-$60, we add $16,

$60.00-$100, we add $20.00,

$100.00-$200, we add $30

This might not apply if we are shipping crates for larger painting or wholesale merchandise. Email us for details.
NOTE: If the postage isn't covered on larger orders, we will bill you for the extra freight charge.
*Small Brochure Orders: We try to save you money on shipping very small orders by simply putting them in envelopes and shipping standard rates.
Wholesale Orders:

For wholesale orders to stores, parks visitor centers or tour groups, after you have gained a credit standing with us, we will bill you with added freight charges. We prefer email wholesale orders, but Fax orders works too.
 To contact us for more information, click here:
"Out of the Office" message?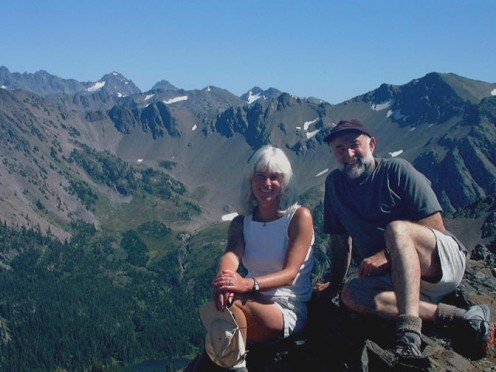 It might be like this, with both of us high above Grand Lake in the Olympics. This alpine basin is just 25 air miles from home. The toe of Grand Lake is just barely visable beside Nancy's hat, which was several thousand vertical feet above the valley below.
Now here's something to think about. In summer, there's a seasonal NPS ranger that lives on the shores of this lake, a half-day's walk from the nearest trailhead. She lives in a tent and spends her days talking with hikers, fixing trails and watching nature in a place full of flowers. Once a week, she hikes out for the mail, food resupply and a shower.
It's undoubtedly the best job she'll ever have.