Published Essays and Illustrations by Larry Eifert
* All work is copyrighted and cannot be used without an written agreement by Estuary Press
* Click on hyperlinks to see complete articles
Click here for the Salish Sea series for 48 North magazine.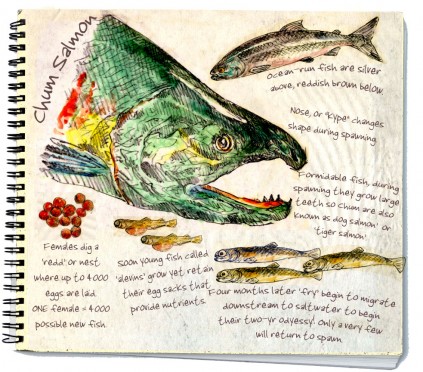 First published in 48 North magazine, June 2009
It was a riot, and as we approached, none of the birds seemed to care we were there. Then a slow, huge and powerful swirl of water nearby showed something else was going on below the surface…. more
First published in 48 North magazine, May 2009
In most bird species, the male is the most colorful – fitting clothes for the obviously less intelligent of the genders, but kingfishers are reversed. … more
First published in 48 North magazine, June 2008
The four-foot tall yard ornament stood on the end of our dock. Focused on its next meal, the great blue heron appeared to be unaware of our presence – completely unaware. … more
Originally published in 48 North magazine, February 2008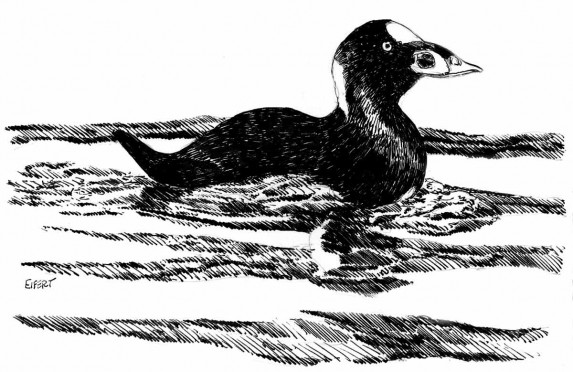 Goggle-nose, Plaster-bill, Horse-head Coot, Blossom-bill, Snuff-taker, Bottle-nosed Diver and Mussel Bill are some of the names I've heard for these birds. This wasn't a big flock, by any measure, but it was just good to see these birds at all. ….. more…….
Originally published in 48 North magazine, November 2007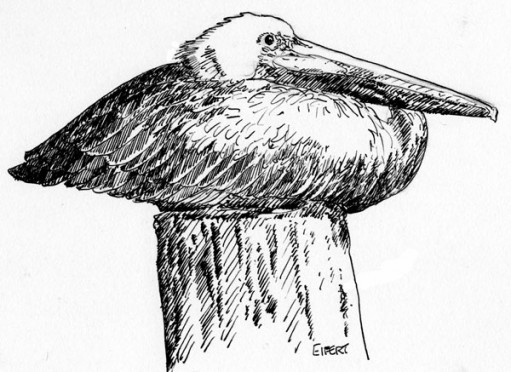 A few months ago I was sailing Sea Witch out of Port Townsend, out towards Point Wilson where there's often better wind. Suddenly, there is was. Near the Number 2 bell buoy, a large brown bird sat floating, giant outsized beak so large it dipped in the water each time a swell passed by. "Now, THIS is something different" I said aloud to the non-existent crew. more…..
Originally published in the Seattle Times newspaper, December 26, 2005

This could be a misplaced article from the Tucson Times or maybe the Baja Insider, a story about those northerly folks looking to escape chilly winters for a bit of southerly warmth. The idea is correct – the location isn't! … more
Originally published in the Seattle Times, September, 2005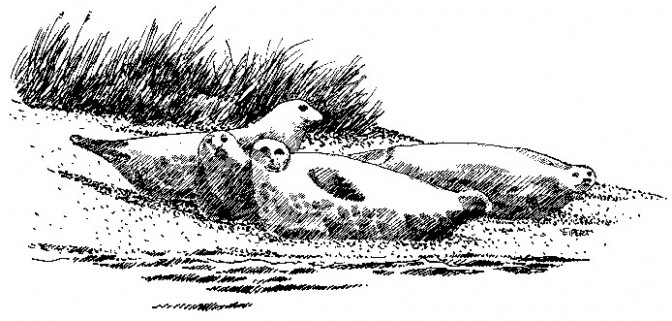 Harbor Seals line the beach
Mystery Bay. Sounds like a romantic getaway destination at a far-flung tropical resort, but it's right here only thirty miles from Seattle. Tell boaters you're heading for that nearly landlocked bay near Port Townsend, and most will say, "Not me, I'm not putting MY boat on the mud. You can't get in there!" On the other hand, taking the road less traveled has always been the preferred path of an artist, and so our 1939 boat, Sea Witch, closed on the entrance buoy to Kilisut Harbor. Behind us, Port Townsend's classic waterfront lay only two miles to the northwest. We were going to Mystery Bay……. more
Originally published in the Seattle Times, July 28,2005
The osprey with dinner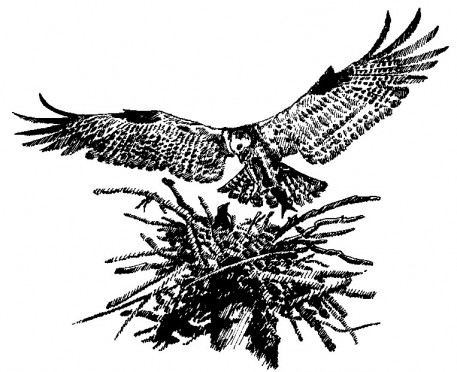 Floating on the wind, the osprey seemed not to even notice as our boat approached! Then, suddenly, the big bird stopped hovering, plunging directly into the channel ahead of us – and immediately launched itself back into the air clutching a fish. Skewing the wildly-flapping salmon around with its feet so it was better balanced and aerodynamically correct, the 'fisherman' flew up the narrow channel, disappearing into the deep forest ahead. Dinner was served…. more
first published in 48 North magazine, August 2005
| | |
| --- | --- |
| Scene of the crime. | While we were gone for a month, transients moved aboard our boat. No kidding! And we're not talking just about an overnight party, but a flighty couple looking for a new home, a place to raise a family…. more |
March 2005, 48 North magazine
Anchored securely in a little pocket cove, we held Sea Witch's bow into any possible evening weather with a stern line to shore. Plenty of anchor scope was out, and the stern was firmly tied to an old gnarled Douglas-fir, making our little watery world just about as safe and pleasant as Northwest boating can be. We were fairly close to shore, a hundred feet or so, and the view out the cabin hatch was that of green. Emerald green moss and gray-green lichen, greenish black firs and yellow-green cedar – and green water reflecting it all. Nancy and I spent a very pleasant night of it, playing cards with some red wine beneath the soft glow of kerosene lamps…more….
Larry Eifert – first published in 48 North magazine, March, 2005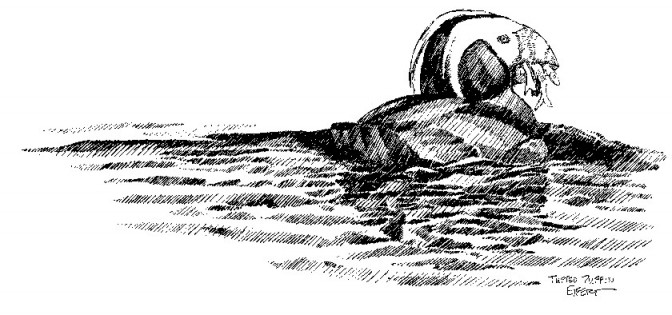 Tufted Puffin – hero of the story
The Smith Island Race, sponsored by the Wooden Boat Foundation, begins off the Port Townsend waterfront and features an out-and-back 35-mile run around Smith Island, that lonely patch of sand and kelp just south of Lopez Island in the San Juans. This is a race for wooden boats, and because of the distance and location, usually larger wooden boats. Included in the lineup were the usual local boats, Annie Too, Sir Issac, and Martha, boats in the 40- to 70-foot range, boats that could make it around the course in almost any wind and water conditions, and finish before nightfall……. more