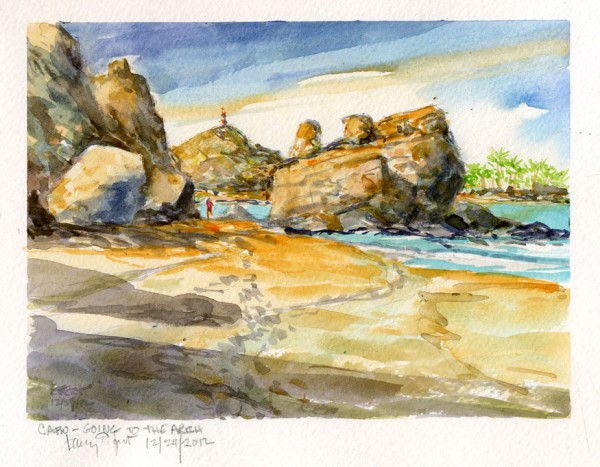 For the last few weeks, Nancy and I have been in San Jose and Cabo San Lucas, then a some nice days in San Diego visiting family on our way home. Of course I couldn't let a good day at the beach go by, so I painted a few watercolors of those times with my little Prang travel kit. Above, there's Nancy coming along the beach with Cabo's  inner harbor right behind her. The last time we saw this place was in 2005 when we sailed Ave Maria, our 50-ketch (just the two of us – 38,000 lbs of boat – two tired sailors) into the harbor midway through a very good adventure (here's the link to THAT story).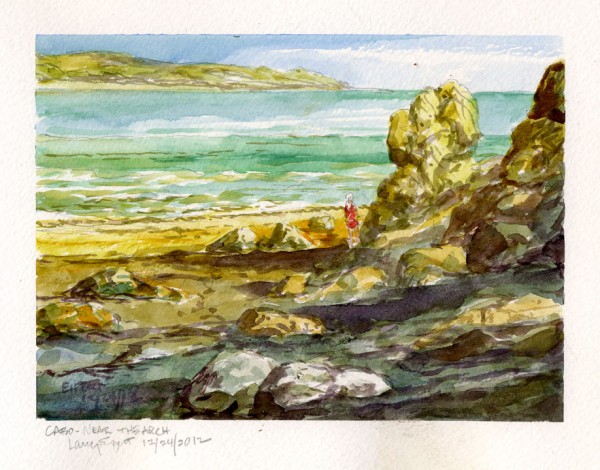 And here's Nancy again going to where she is most comfortable, swimming in a tropical ocean. These are both "5 x 7″ on Arches paper.  At one point on this one, I had an 8-yr old Mexican kid come by and watch me. Not a peep, not a change of expression, just cautious amazement – and then he went on  his way without a word. I like Mexico a lot!
And below is another one, more of a trip log, of that girl-I-share-life with, book in hand, shoes off in the sand and using a boulder for part of her towel.  This one is 7″x 7″. These paintings are such great ways to remember a trip. By seeing these paintings later, I'll vividly remember each rock, the color of that golden sand, the frigate birds whirling overhead and maybe also recall the green Ridley sea turtles that we saw hatching out on the same beach just a few hundred yards to the left.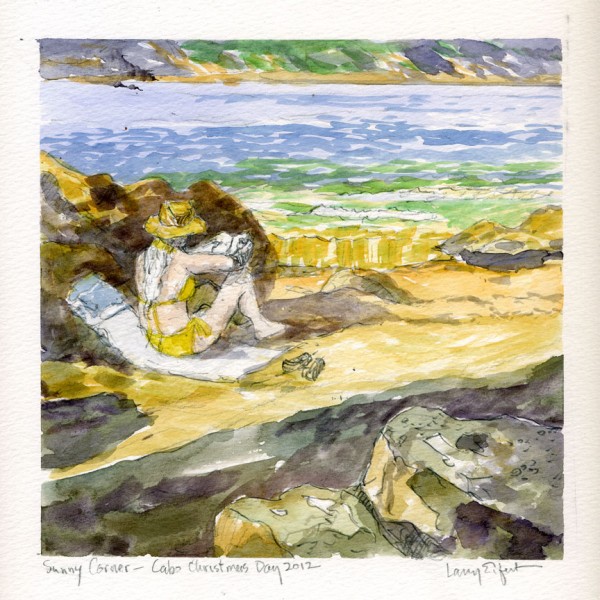 And here's the amazing part. Good friends, and I mean GOOD friends invited us to share this cliff-top house right on the hill above Cabo overlooking the invisible line that marks the Pacific Ocean and Sea of Cortez. It was quite a place. Our bedroom was the room behind the chairs – really! But what the photo doesn't show is that the edge of that pool drops straight down probably 3-400 feet to the ocean. REALLY! It was a thrill to swim up to that edge and look over, to look DOWN at the backs of the frigate birds and pelicans as they went by. I don't ever remember sleeping in a room so far out on a cliff that had both the morning sun rising and evening sunset streaming into opposite windows. Besides this, the ceilings of most rooms had custom handmade arched parabolic brick ceilings that amplified the sound like we were all 'miced up', an obvious needed addition because the sound of the crashing waves below was sometimes deafening. There were times we thought we felt the place shake.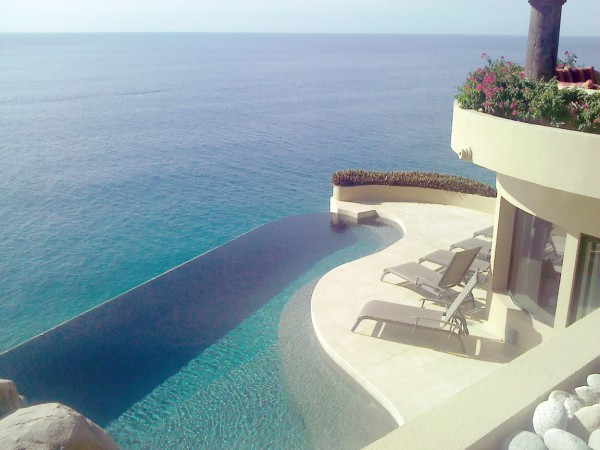 Thanks for reading this week. I'll be back on my normal blogging schedule from now on. Thanks for the kindness from everyone this Solstice Season.
Larry Eifert
Click here to go to the online blog this was to.
Click here to go to our main website – packed with jigsaw puzzles, prints, interpretive portfolios and lots of other stuff.
Click here to check out what Nancy's currently working on with her photography.