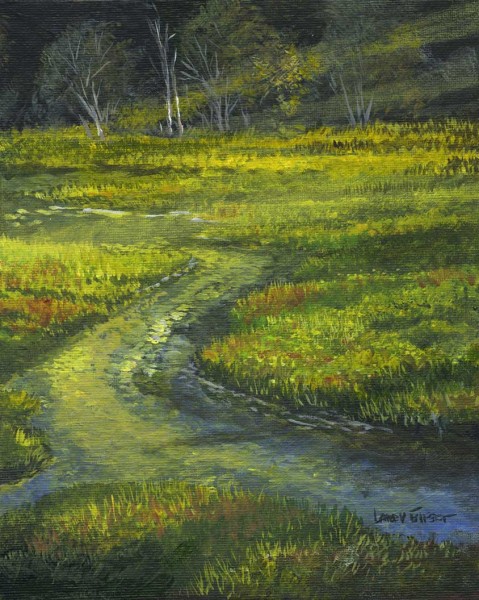 I painted this a few months ago, but larger stuff kept getting on the weekly blog. I painted this because I was struck by the misty air here that almost made the ground and creek glow. On the far edge of the flood plain the alders were really lighting up, like a spotlight had been trained on them, but in a few seconds this all changed when a cloud moved over us and changed the light from warm to cool. Gone, but I still remember the moment. It's what paintings are all about, chasing those glorious moments of memory. Too many giant paintings have been coming out of this studio in the past few months and I'm sure ready for some of these "moments" here.
This ORIGINAL painting is varnished acrylic on linen canvas, 9″ x 12″ and $140 unframed.
Custom frame makes it a total of $170 and shipping adds just a bit more depending on your zone or if you take the frame. This is the original painting, NOT a print.
Email us for details.
On a more 'retail' note, the website is finally coming back together and by the rate of people buying Christmas stuff, it seems to be working Okay. I'm adding the prints and puzzles, journals and stuff every day, so stay tuned for more as the experience gets richer. http://larryeifert.com/shop is the portal, but you can also get to it from the website simply at http://larryeifert.com
Thanks for reading this week.
Larry Eifert
Click here to go to the online blog this was to.
Click here to go to our main website – packed with jigsaw puzzles, prints, interpretive portfolios and lots of other stuff.
Click here to check out what Nancy's currently working on with her photography.