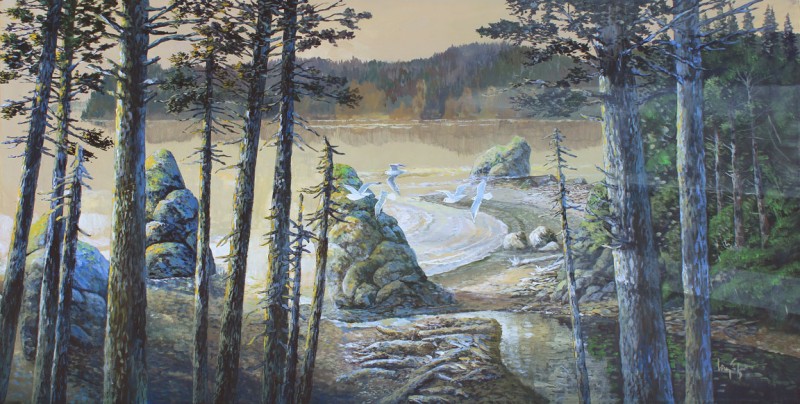 "The Gulls at Ruby Beach" is a new acrylic painting on canvas, 20″ x 40″ and offered here for $1200 framed. Email us for details if you're interested. Click it and you'll see enlarged versions of both these images.
  Ruby Beach is usually a vibrant and wild Olympic National Park beach, but on occasion in late summer the ocean can be more like a calm lake – little surf and almost no wind. We were there to see a sunset and it felt like this. It felt like warm coffee. The headlands beyond the beach aren't quiet as close as what I painted, but it just seemed like I needed to stack up the levels of receding shorelines and show some abstract textures to that area. And maybe some of you will notice the big missing sea stack on the left side. No, not on purpose, but if you stand just here on the trail down to the beach, that big rock is more to the left and out of view. I think it works.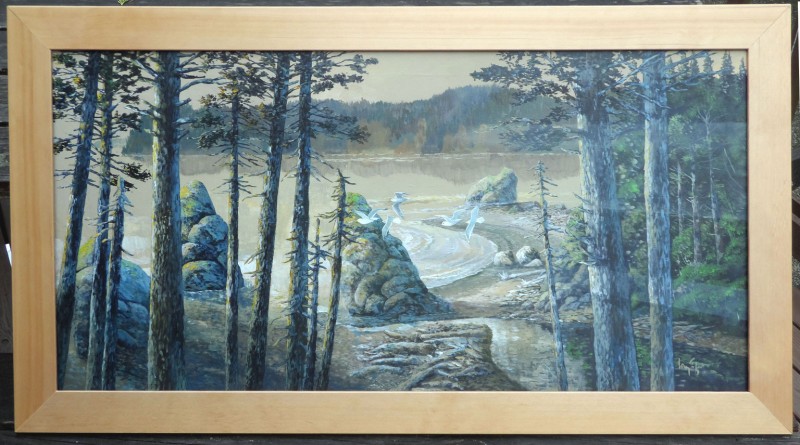 Here's a photo of the painting and frame that's included. If you don't want the custom frame, we can do that too. This is the original painting, NOT a print.
And, if you're interested, you might go over to my Facebook Fan page and like it. I post lots of trail albums and other art there. See the link below.
Thanks for reading this week.
Larry Eifert
Here's the blog on the web.  And here's my Facebook fan page. I post lots of other stuff there.
Click here to go to our main website – with jigsaw puzzles, prints, interpretive portfolios and lots of other stuff.
Nancy's web portfolio of beautiful photographs
And Click here to go to Virginia Eifert's website. Her books are now becoming available as Amazon Kindle books.