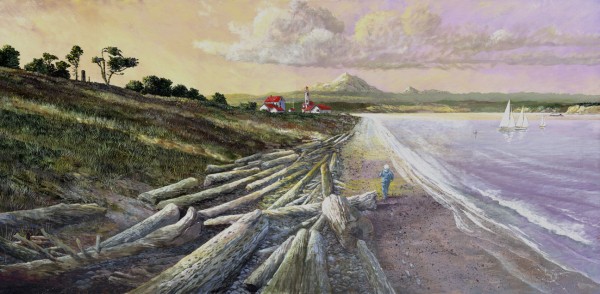 (click the image and it'll enlarge in our browser.)
Yes, I still occasionally still do commissions – if they're fun and challenging., I'm most interesting in a life that's stuck out there a bit, so I still look for challenges. One doesn't have a past like mine, of climbing mountains and sailing to the Sea of Cortez and Alaska, of trying to make a living from my paintings and all the rest without realizing there should ALWAYS be challenges – and the bigger the better. We were talking with an old friend the other day: "what are you doing" "As little as possible" was her response. I mean, what the heck sort of life is THAT? If I EVER say that, just shoot me (metaphorically-speaking, since I don't believe in guns).
So, I was approached by a very nice woman who's a 'lifer' here in Port Townsend. She lives right in town in the same house she and her husband bought in the 1950's! Many afternoons she heads for Point Wilson Lighthouse nearby for her exercise – goes down the beach in her blue sweats, around the light and up the hill. She showed me photos that her husband took many decades ago of the cypress trees on that hill, and, so, would I be interested in painting something that she could look at on days she doesn't walk. Point Wilson, Mount Baker, Mount Shuksan, and maybe ME sailing in Sea Witch. I couldn't resist.


Here's my reference photo, five photos crammed together to help me figure it out. The mountains weren't 'out' that day, but I had other references for that part. For the many that read my blog but aren't Northwesterners, this spot is at the north end of Port Townsend in Fort Worden State Park. It's where the waters of the Straits of Juan de Fuca and Puget Sound converge – and has a mile-long sand beach on one side, a rocky cliff beach on the other. I've painted many images here. 24″ x 48″ acrylic on canvas.
Thanks for reading this week.
Larry Eifert
Click here to go to the online blog this was to.
Click here to go to our main website – packed with jigsaw puzzles, prints, interpretive portfolios and lots of other stuff.
Click here to check out what Nancy's currently working on with her photography.
Click here to go to Virginia Eifert's website. Her books are now becoming available as Amazon Kindle books.