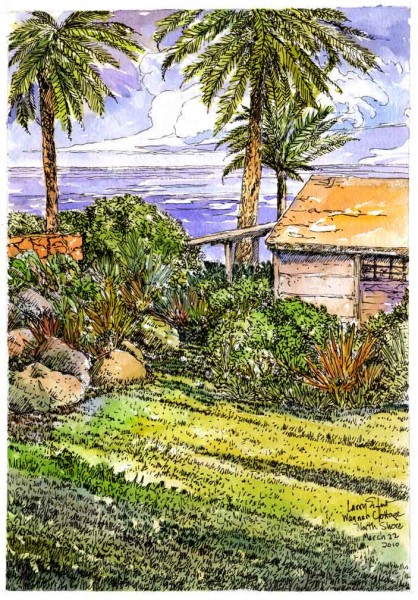 Back in March we stayed on Oahu's North Shore, and now I've gotten around to painting a little  "thank you" watercolor for the family who graciously allowed us to stay there. The house is an interesting place, and so I thought I'd post it here. The place is about 3 miles or so north of Hale'iwa, that North Shore wide place in the road that's famous for the shave ice, odd people and giant surfing waves. How big are the waves? Well, right down the road a local surfer was sleeping in his beach-side cabin when a rogue wave came in, smacked the place apart and he awoke to find himself behind his home, surfing up the hill on his bed. He's lucky to tell the tale.
This little cottage, also oh-so-close to the giant waves, had its lower front windows boarded up because of the same problem. Try sleeping soundly at night with THAT knowledge running around in your head. We were told the place was originally an old WW2 army barracks that was moved here after the war, then remodeled endless times to become a truly old-Hawaii experience. This means it's a mixture of everything that's available yet nothing that's entirely permanent. Nothing fancy, no granite countertops, just a tidy little place like the summer cabins I stayed in as a kid. There's a long sand beach just down the block where green sea turtles haul out to rest, but the 'beach' out front is mostly lava rocks and remnants of an ancient coral reef when sea levels were a bit higher.
For the most part, the entire 808-State (Hawaii area code) isn't like this anymore. You have to really look for the old Hawaii Nancy and I love – but it's still here in bits and pieces. The family who remains true to this small and simple old place on the beach is pretty savy, I think, of realizing how to enjoy life.
Thanks for reading this week.
Larry Eifert
Click here to go to the online blog this was to.
Here's a link to our new Bristlecone Pine jigsaw puzzle.
Click here to go to our main website – packed with jigsaw puzzles, prints, interpretive portfolios and lots of other stuff.
Click here to check out what Nancy's currently working on with her photography. New images from her Glacier National Park trip are featured. Bears, peaks, loons and foxes, oh my.