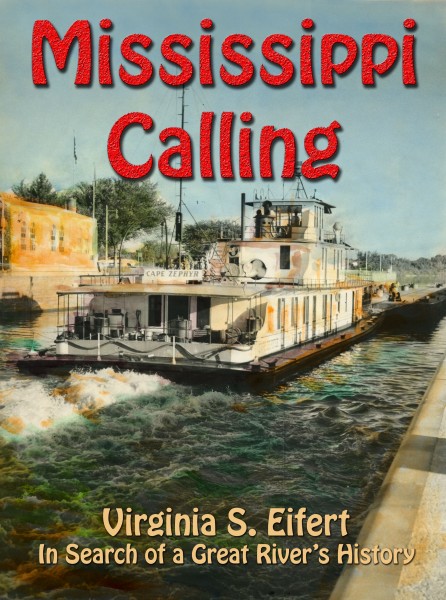 This is the fifth of twenty I've now made available for Kindle and Nook, and your phone, tablet or computer – published this week. Made a new cover, added photos – and I discovered it's still a very good read. In 1957 I was 11 when this was first published – now after all these years I just have to wonder what my mom would think at all of today's digital stuff. She traveled over 6,500 miles on Mississippi towboats, hand-writing field notes in journals and taking amazing photos with her little film Roliflex camera. The original manuscript plus rewrites were on her MANUAL Underwood, written mostly at night when I was asleep (and quiet). Today, I'm republishing her book on a 3.4 GHz pc, Photoshoping a new cover by taking her original photo and scanning a watercolor beneath it on layer 4, just beneath the titles. What I could have done for her!
For the added photos, I dug out a huge box of her old custom 8 x 10 enlargements. Here's one from the 50's, an amazing steam-powered towboat still burning coal. There are also some interesting images of New Orleans from that period, plus some other period river and towboat shots.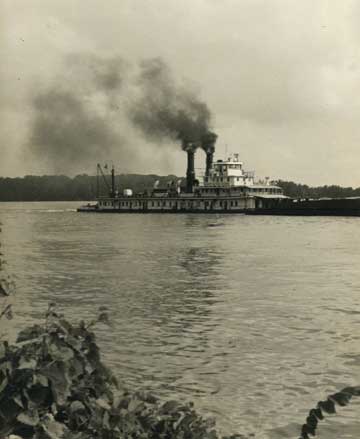 While 'River World" (republished a couple of months ago) was about the Mississippi's nature, this book is about the people who discovered it, changed it, fought over it or lived beside it. Several stories are about finding the river's source, or not! One chapter is about the woman that ran one of the largest river canals in America – 150 years ago. Another is about Nauvoo, Illinois and the story of the failed Mormon colony, then failed French Icarian (socialist) community. My family came from that Icarian group.
If you'd like to see this book on Amazon.com, click here for Kindle. Barnes and Noble's Nook is coming soon. And thanks, everyone, for supporting this project.
For more information about Virginia, check her web site at http://virginia.larryeifert.com.
Thanks for reading this week.
Larry Eifert
Click here to go to the online blog this was published to.
Click here to go to our main website – packed with jigsaw puzzles, prints, interpretive portfolios and lots of other stuff.
Click here to check out what Nancy's currently working on with her photography.
Click here to go to Virginia Eifert's website. Her books are now becoming available as Amazon Kindle books.