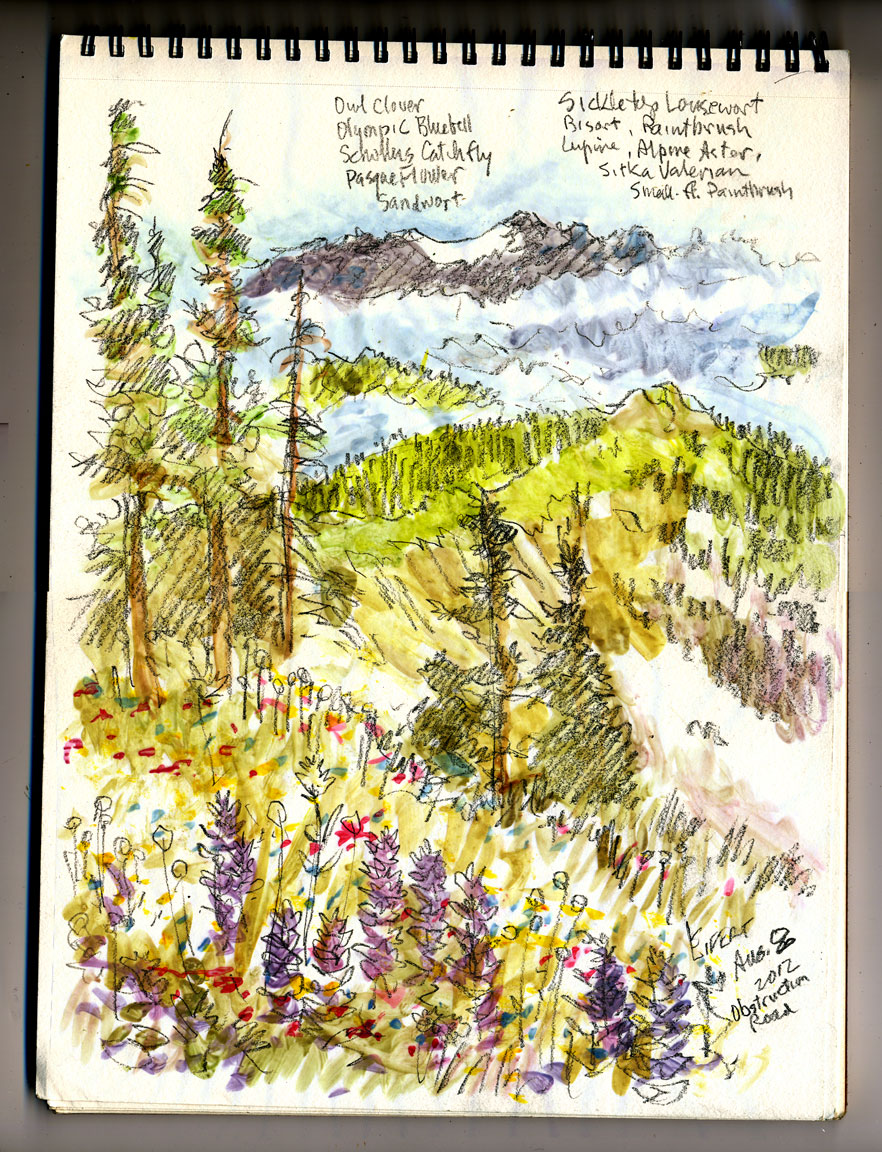 The past four days: Nancy and I did something we've never done. In our hurry to hike every high-country trail, climb to every lookout, paint or photograph every park, we've never just walked out there and plopped ourselves in the meadows and spent days just soaking it up like we lived there. It's always such a hurry with us we never get to just sit and smell the Sitka valerian (very sour). So, that's what we did – just walked out there and sat down at about the 6000′ feet level – and I'd say it was nothing short of heaven. John Muir said go to the mountains and get their good tidings. We did!
There's this high rocky road, some say the highest in Washington State, that goes off from Hurricane Ridge in the Olympics and in 10 miles or so traverses the most glorious alpine landscape I think I know of. We heard murmurrings that after a seriously big snow winter, this week was the best flower show – but that was a serious understatement. I took three flower books – figured out most but some just weren't listed. You see, the eastern Olympics are a place unlike any other. Isolated from the rest of the continent like an island in the sky, you can see Olympics-only marmots, chipmunks, violets, hairbells and lots of others, only found here. Red, pink, orange and purple were the meadows. Some, like the photo below looked like snow. Nancy sat herself down next to a marmot family's communal den system and got some great closeup shots of marmot pups testing their restling skills, and I just went off and found flowers I still have no idea what they're called.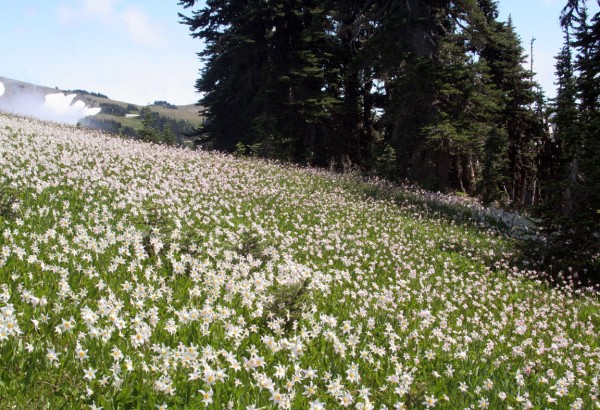 What's the definition of heaven in this life? I'd say it would be sitting in the middle of this field of avalanche lilies – but I'm just an artist, painter of wild places and still can't get enough of it. You: go, go now. They're still there.
Thanks for reading this week.
Larry Eifert
Click here to go to the online blog this was to.
Click here to go to our main website – packed with jigsaw puzzles, prints, interpretive portfolios and lots of other stuff.
Click here to check out what Nancy's currently working on with her photography.