Last week I posted a painting of one of our backyard Columbian Black-tailed Deer. Remember: Apple Please? This week I'm showing two more. (Sorry, but the little fawn above was taken quickly and isn't available.)  A year ago we had two does that birthed three fawns. There was another mom that showed up occasionally with twins too, and one afternoon they were all here at once: three moms with FIVE fawns! It was crowded, but everyone seemed to get along Okay – but what do we know. The more I watch them, the more I see the social life of these guys seems very complex.
This painting is of the dominant doe that's been here for years – the mother of the fawn above.  She has this look! See the way she just pierces you with that blank stare? She's checks out the house, circles around it to find out where we are – which room we're in, then comes right up to one of our big windows where she gives us the 'stink eye' for a handout. No movement, no blinking, no acting coy or cute, she just stares until you give in. Cats do this, we know (boy, do we know), but a 160 lb deer doing it is something else again. And Nancy gives in pretty quickly: "okay, okay, meet me at the back door" and it's as if the deer understands completely. Back door it is!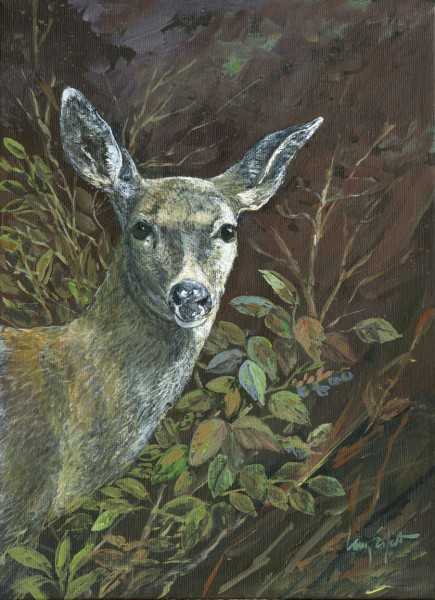 This ORIGINAL painting is acrylic on canvas, 9″ x 12″ and $140 unframed.
I have a nice gold frame on it for an upcoming  gallery show, which makes it a total of $160 and shipping adds just a bit more depending on your zone or if you want to take the frame. This is the original painting, NOT a print.
Email us for details.
Thanks to everyone who have been buying my new Virginia Eifert Kindle books. Amazon doesn't give me a list of buyers, but lots of people are rediscovering her work – including me. Three up, seventeen to go.
Thanks for reading this week.
Larry Eifert
Click here to go to the online blog this was to.
Click here to go to our main website – packed with jigsaw puzzles, prints, interpretive portfolios and lots of other stuff.
Click here to check out what Nancy's currently working on with her photography.
Click here to go to Virginia Eifert's website. Her books are now becoming available as Amazon Kindle books.