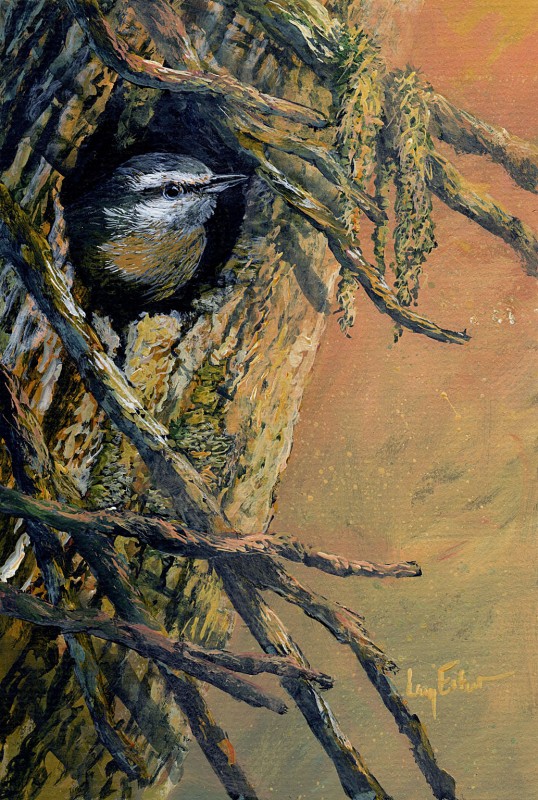 A new painting: Red-breasted Nuthatch at the front door. Click to enlarge in your browser.
What to do? – I have nine new paintings awaiting posting on my blog, but already four have gone to new homes. And then there are all the other projects coming out of my studio – none of them have been posted here in months. Maybe I need to post more, but I don't want to over-burden my faithful followers with too much of this stuff. Speaking of faithful, this painting came about from our bird feeder faithful and a recent warm sunset making our woods just glow with light.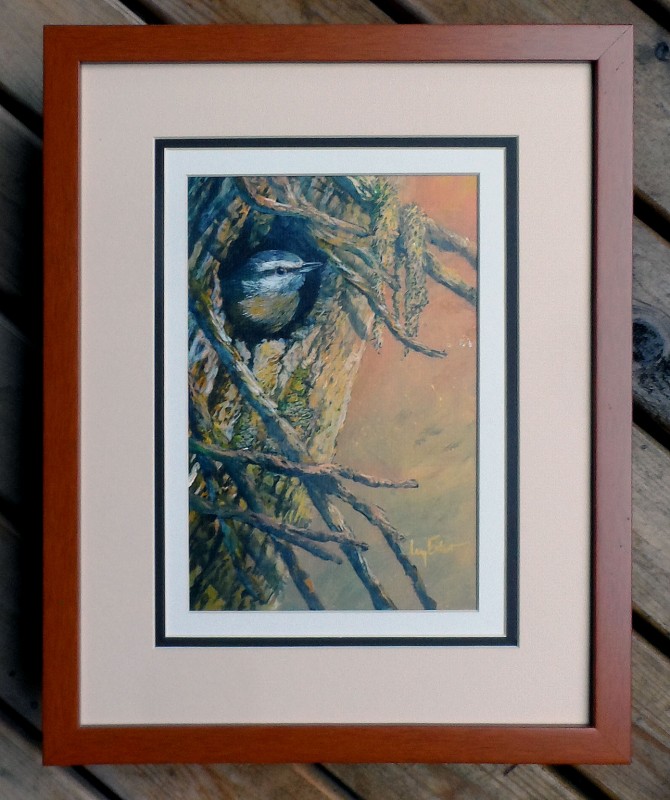 This ORIGINAL painting is acrylic on board, 6″ x 9″ and $145 framed.
The custom frame has a triple liner and glass. Shipping adds just a bit more depending on your zone. This is the original painting, NOT a print.
Email us for details.
And if you made it down this far, I had a very nice feature story in the Springfield Illinois newspaper last week about my past adventures. Someone once said my life reads like a Steinbeck novel. Possibly, but for the most part, it was fair and fairly well written, not too many lies or exaggerations.
Thanks for reading this week.
Larry Eifert
Here's the blog on the web.  And here's my Facebook fan page. I post lots of other stuff there.
Click here to go to our main website – with jigsaw puzzles, prints, interpretive portfolios and lots of other stuff.
Nancy's web portfolio of beautiful photographs
And Click here to go to Virginia Eifert's website. Her books are now becoming available as Amazon Kindle books.