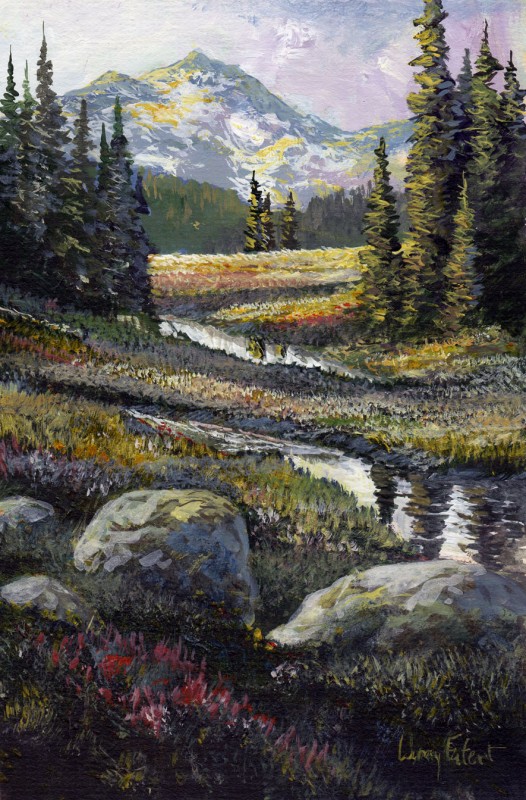 "Little Tarn on Lillian Ridge" acrylic on board, 6″ x 9″ framed: $145.
Actually, the little tarn doesn't look anything like this, but it was a starting point. It's a favorite place of ours, maybe yours too for a few or you that hike the Obstruction Point area of Olympic National Park. For me, this area is about as close to 'goin' to church' as I can find. It's one of the highest roads in the Northwest, and once out of the darned car bumping along that ridgetop, there are miles upon miles of alpine landscapes to wonder.
We hiked down here a couple of weeks ago, below the ridge and away from other hikers. The loudest sounds we heard were big bumblebees working the lupine and bluebells, and a couple of gray jays giving their soft greetings. So I painted it, and then get to live it all over again in the studio – like a memory of a good dream.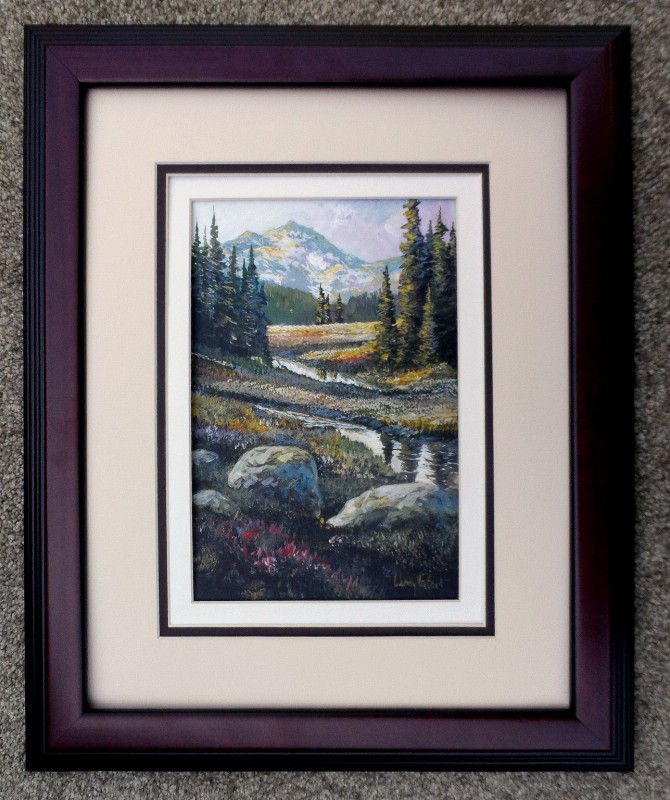 This ORIGINAL FRAMED painting is acrylic on paper board, 6″ x 9″ and $145 custom FRAMED and a tad bit more for Priority Mail. Glass is 11″ x 14″, outside frame measurement is 14″ x 17″. This is the original painting, NOT a print. Remember, I'm offering this with the frame and a triple custom mat. Email us for details.
SOLD, THIS PAINTING IS GOING TO TEXAS TO SOMEONE WHO WANTS TO BE IN THE OLYMPICS.
Thanks for reading this week. Larry Eifert
Here's the blog on the web.  And here's my Facebook fan page. I post lots of other stuff there.
Click here to go to our main website – with jigsaw puzzles, prints, interpretive portfolios and lots of other stuff.
Nancy's web portfolio of beautiful photographs
And Click here to go to Virginia Eifert's website. Her books are now becoming available as Amazon Kindle books.