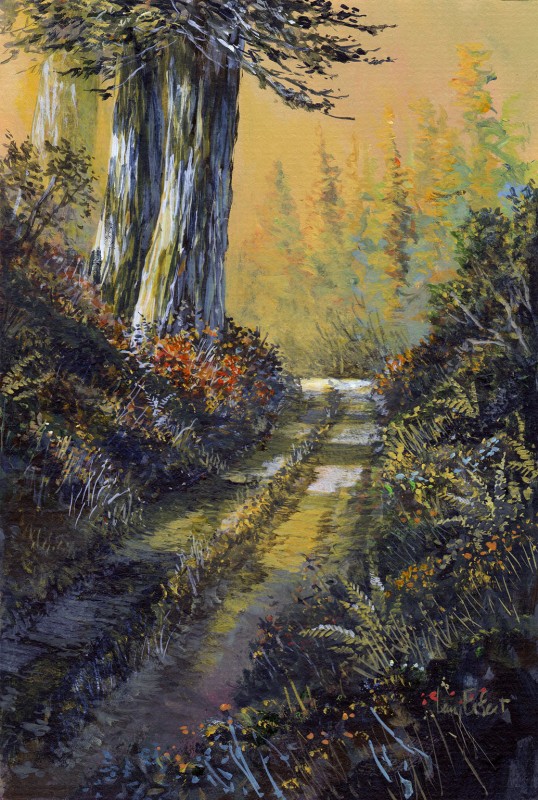 First, I'd like to apologize for the extra posts some people received a few days ago. Fuse blew in the studio, computers crashed, amazingly the post in question was duplicated 32 times and began sending the mailing list out. What a mess. I try not to overstep my welcome.
So, back to this new painting: Imagine giant 80-ton log trucks rumbling down this little road. Must have been a nature-nightmare, but now it's about as serene as it gets for cutover forest, an occasional big tree still left here and there. We're lucky enough to have a few of these big guys here at our place, standing beside the old haul-road like overlords sweating they might be next. But, thankfully, industry is gone and we're making sure it doesn't come here again any time soon. I like the way the sun falls on the road, like little searchlights.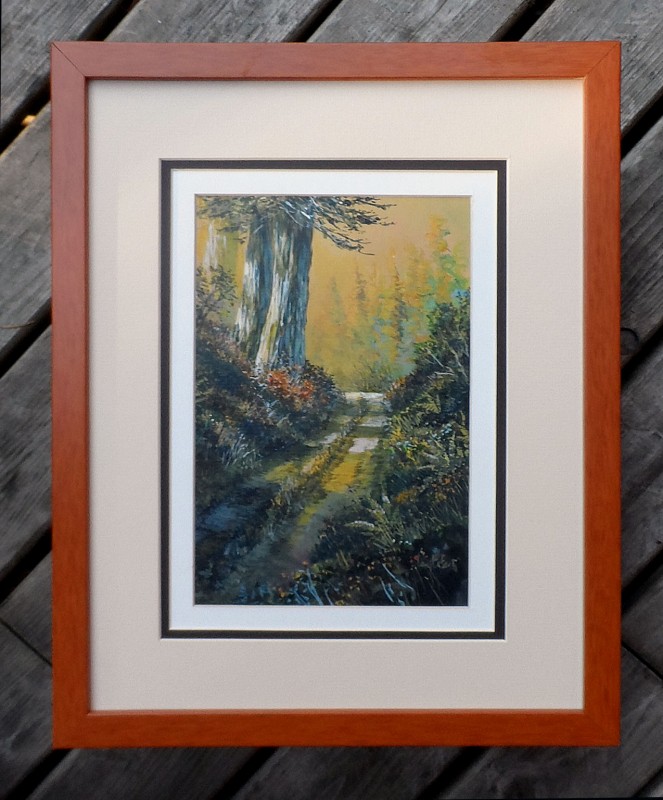 This ORIGINAL painting is acrylic on board, 6″ x 9″ and $145 framed. Outside edge of the frame is about 12″ x 15″.
The custom frame has a triple liner and glass. Shipping adds just a bit more depending on your zone. This is the original painting, NOT a print.
Email us for details.
Thanks for reading this week. Send this to someone who might appreciate what I'm painting and tell them to sign up. I'm trying to expand my list. An email will work.
Larry Eifert
Here's the blog on the web.And here's my Facebook fan page. I post lots of other stuff there.
Click here to go to our main website – with jigsaw puzzles, prints, interpretive portfolios and lots of other stuff.
Nancy's web portfolio of beautiful photographs
And Click here to go to Virginia Eifert's website. Her books are now becoming available as Amazon Kindle books.