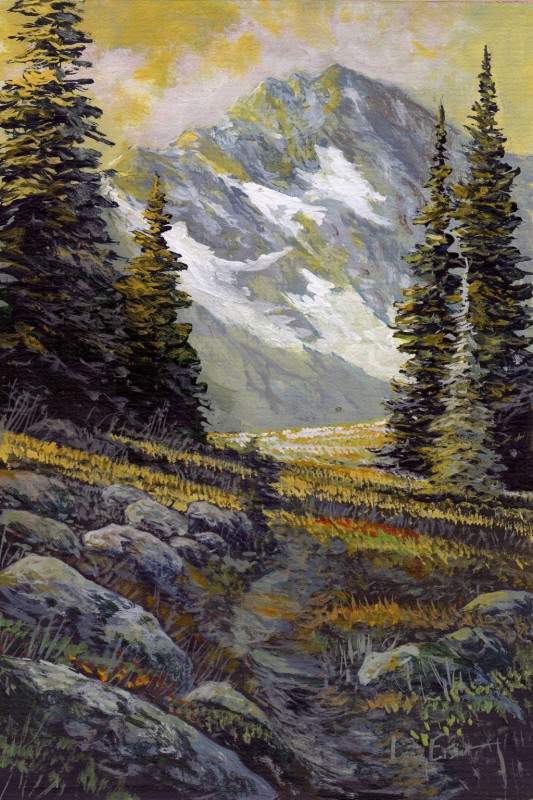 Just one more of my recent summer alpine series – please? I'm happy to say almost all of these current paintings are now sold. In August, I had most of a day to roam the meadows of this area, and it seems to have had a profound effect on what I want to paint – at least for now. Royal Basin, Olympic National Park: there were evidently seven individual glaciers that came into one as it flowed down this single valley, and each headwall has developed its own personality. This one had a huge view of the adjoining valley and peak, Mt Clark – and the views were stunning, so I developed a painting around this feeling of meadow-walking. I just want to somehow walk here again – and if it's with a painting, so be it.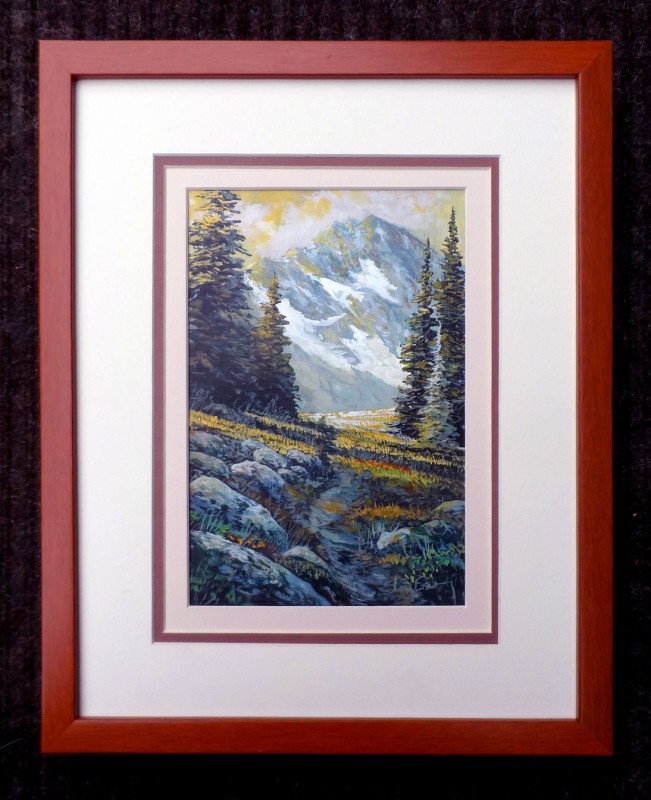 DETAILS:
This ORIGINAL painting is acrylic on board, 6″ x 9″ and $145 framed.
The custom frame has a triple liner and glass (and actually, I think the frame is more pecan-colored in real life). Shipping adds just a bit more depending on your zone. This is the original painting, NOT a print.
AND: as I publish this, amazingly the painting on the last blog post is still available. I can put them both together and offer a discount – but all the other 10 recent small paintings are now sold. Email us for details.
Thanks for reading this week.
Larry Eifert
Here's the blog on the web.  And here's my Facebook fan page. I post lots of other stuff there.
Click here to go to our main website – with jigsaw puzzles, prints, interpretive portfolios and lots of other stuff.
Nancy's web portfolio of beautiful photographs
And Click here to go to Virginia Eifert's website. Her books are now becoming available as Amazon Kindle books.